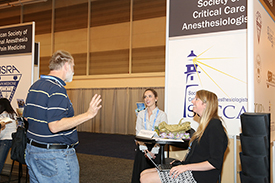 ASA continues to strengthen its relationships with its affiliated subspecialties, as evidenced by the robust presence of these organizations assembled at the Affiliated Subspecialty Society Pavilion – which returns for its second straight year.
In 2015, the pavilion will be located in the Hall D lobby, allowing for additional exposure and exhibit time for participating societies. Below is a list of participating subspecialty societies and a brief overview of what they will be highlighting at their kiosks:
American Society of Regional Anesthesia and Pain Medicine (ASRA)
Join experts at the ASRA booth to ask questions and learn more about what ASRA membership offers, such as the 14th Annual Pain Medicine Meeting from November 19-21 in Miami, the 41st Annual Regional Anesthesiology and Acute Pain Medicine Meeting from March 31-April 2, 2016, in New Orleans, hands-on cadaver courses, the online Self-Assessment Module for Pain Medicine (SAM-PM), produced in partnership with ASA, and the frequently cited Regional Anesthesia and Pain Medicine journal.
ASRA Educational Panel (Regional):
How to Define and Demonstrate Value of Regional Anesthesia and Pain Medicine Services
Saturday, October 24, 4-5:30 p.m.
ASRA Educational Panel (Pain):
New ASRA Anticoagulation Guidelines for Interventional Pain Procedures
Tuesday, October 27, 9:45-11:15 a.m.
Society for Ambulatory Anesthesia (SAMBA)
Learn more about the SAMBA 31st Annual Meeting, May 5-7, 2016, in Orlando, featuring the latest information on NORA and OBA, as well as several general sessions on practice management topics. A preliminary schedule will be available at the kiosk. SAMBA is also promoting the launch of its new quarterly digital newsletter, SAMBA Links, and information will be provided on how you can connect with SAMBA colleagues via LinkedIn and Facebook.
SAMBA Educational Panel:
What the Joan Rivers Tragedy has Taught Ambulatory Surgery
Monday, October 26, 3:30-5 p.m.
Society of Cardiovascular Anesthesiologists (SCA)
Among other activities, the SCA will promote the society's Echo Week: The 19th Annual SCA Comprehensive Review & Update of Perioperative Echo, which will take place May 1-6, 2016, at the Loews Atlanta Hotel in Atlanta.  SCA's 38th Annual Meeting & Workshops and SCA's 5th Annual Thoracic Anesthesia Symposium will also be featured in the Pavilion. These events will take place on April 2-6, 2016, and April 1, 2016, respectively, at the Manchester Grand Hyatt San Diego. Come pick up some materials illustrating the many benefits of SCA membership.
SCA Educational Panel:
Research Update in Cardiothoracic Anesthesiology
Saturday, October 24, 7:50-8:50 a.m.
Society for Obstetric Anesthesia and Perinatology (SOAP)
The SOAP kiosk is your place to learn about great CME programs being offered in 2016. The 2016 Sol Shnider, M.D. Obstetric Anesthesia Meeting will be held March 10-13, 2016, at the Grand Hyatt Union Square in San Francisco, California.  This meeting is recognized as the premier review meeting for clinical obstetric anesthesia. The 48th Annual Meeting will be held May 18-22, 2016 at the Seaport Hotel and World Trade Center in Boston and will focus on "Multidisciplinary Care Coordination."  New for 2016, SOAP will hold the first annual Clinical Updates in Obstetric Anesthesia Meeting at the Grand Hyatt Washington in Washington, D.C. on November 4-6, 2016.
SOAP Educational Panel:
Preventing Maternal Mortality: Practical, Cost-Effective Steps for the Practicing Clinician
Monday, October 26, 1:10-3:10 p.m.
Society of Critical Care Anesthesiologists (SOCCA)
SOCCA is the only society solely dedicated to its specialty – critical care! At the SOCCA booth, attendees can gain valuable information on membership benefits and take away copies of several handouts focused on critical care issues as well as the upcoming SOCCA 29th  Annual Meeting and Critical Care Update on May 20-21, 2016 in San Francisco. You'll find copies of the Interchange, SOCCA's quarterly newsletter covering key issues in our practice, a preliminary SOCCA Annual Meeting schedule and information on how to submit abstracts to the meeting.
SOCCA Educational Panel:
Critical Care Year in Review
Sunday, October 25, 4-5:30 p.m.
Society for Education in Anesthesia (SEA)
SEA serves its membership and the larger anesthesiology community through two national conferences: a one-day annual session in the fall (before the ASA annual meeting) and a four-day meeting each spring. Heavy on workshops and small-group teaching, the conferences allow attendees to explore and interact with various aspects of learning and teaching, as well as produce curriculum content and evaluation tools. SEA also serves its specialty through the esteemed four-day "Workshop on Teaching" (WOT), designed for anesthesiologists actively involved in or anticipating a career in anesthesia education who seek to better understand education theory and its application in the context of medical education.
SEA Educational Panel:
Education in the Context of Healthcare Reform – Preserving the Academic Mission
Monday, October 26, 3:30-5 p.m.
Society for Neuroscience in Anesthesiology and Critical Care (SNACC)
SNACC's kiosk will highlight the benefits of becoming a member, including access to the Neurosurgical Anesthesia Fellowship Directory, the "Chat with the Author" feature on website, case discussions and teaching topics, the SNACC newsletter, available in both English and Spanish, a bibliography containing suggested articles, and important reviews and reduced rates for the SNACC Annual Meeting and workshops.
SNACC Educational Panel:
Is There Enough Evidence to Implement Protocols for Enhanced Recovery After Neurosurgery?
Tuesday, October 27, 1-3 p.m.
Society for Pediatric Anesthesia (SPA)
During the ASA Annual Meeting, the SPA kiosk will highlight the benefits of becoming a member of the Society for Pediatric Anesthesia, Congenital Cardiac Anesthesia Society and Society for Pediatric Pain Medicine.   The kiosk will also provide information about SPA's online Intensive Review of Pediatric Anesthesia course, as well as our meetings at The Broadmoor in Colorado Springs, March 31-April 3, 2016.
SPA Educational Panel:
American College of Surgeons Optimal Resources in Children's Surgical Care: What It Means for Anesthesiologists Who Care for Children
Saturday, October 24, 4-5:30 p.m.
Join Our Growing List of Partners
ASA also recognizes there are additional subspecialty societies that may be interested in developing closer collaboration with ASA. A pathway and criteria for being recognized as an affiliated subspecialty was developed and approved by the House of Delegates in 2014. Any subspecialty society interested in applying for affiliated status can contact Sarah Braun, Intersociety Relations Manager, at s.braun@asahq.org for further information.
And don't miss the Subspecialty Educational Panel from the Society for Technology in Anesthesia (STA):
New Technologies in Anesthesia and Anesthesia Simulation
Monday, October 26, 9:50-10:50 a.m.
Subspecialty Meetings
There are also a number of subspecialty and anesthesia-related meetings taking place in San Diego, a full list of which can be found on the ASA website.
Return to Archive Index