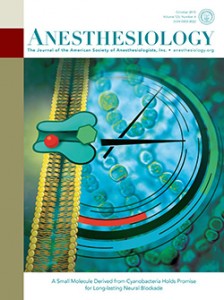 Anesthesiology, the publication with the highest impact factor among all anesthesiology journals (5.879), has a jam-packed agenda worthy of its reputation at the ANESTHESIOLOGY® 2015 annual meeting.
Here's a line up of journal-sponsored activities in San Diego:
Saturday
Best of Abstracts: Clinical Science, 1:10 to 3:10, Upper 4
The title says it all – the Best of Abstract sessions highlight the most important clinical science in the specialty, as chosen by the editors of Anesthesiology. Ten abstracts will be discussed at the Saturday afternoon session.
Sunday
24th Journal Symposium: The Anesthesiologist and Health Care Redesign, 9 a.m. to noon, Upper 4
The 2015 Journal Symposium highlights up-and-coming and noteworthy concepts in health care redesign, focusing on optimization of current systems to complete reconceptions and how anesthesiologists can be at the center of these important projects.
Dr. Cassella Book Signing
National bestselling author Carol W. Cassella, M.D., and "Mind to Mind" Section Editor will be signing copies of her novels Oxygen, Genesis and Healer. She will be at the journal's booth from 9 to 9:30 a.m. and from 3:15 to 3:45 p.m. on Sunday.
Best of Abstracts: Basic Sciences, 1 to 3 p.m., Upper 4
Nine abstracts from the basic sciences will be discussed at this Sunday afternoon session.
Anesthesiology Clinical Trials Session: Initial Results of Major Trials, 1:10 to 3:10 p.m., Upper 20A
Participants will identify the clinical implications of recently completed major trial results and work to define the clinical research methodology and consquences of trial design choices.
12th Annual Celebration of Research Brunch Session, 9:35 to 11:05 a.m., Upper 20D
The recipients of the 2015 Residential Research Awards will be introduced during the Celebration event.
Other events include: Presentation of the FAER Anesthesiology Mentoring Excellence in Research Award to David S. Warner, M.D., the Excellence in Research Award to Emery N. Brown, M.D., Ph.D., Presidential Scholar Award to Mark D. Neuman, M.D., and the Foundation for Anesthesia Education and Research (FAER) report by Joy L. Hawkins, M.D., FAER Board of Directors Chair. Brunch will be provided during the event.
Journal Introduces New Editor, Evan D. Kharasch, M.D., Ph.D.
Evan Kharasch, M.D., Ph.D., will become the next editor-in-chief of Anesthesiology in July 2016. Stop by to meet him from 10:30 to 11 a.m. and 12 to 12:30 p.m. on Tuesday at the Journal booth in the Resource Center. Dr. Kharasch is at Washington University School of Medicine in St. Louis.
Return to Archive Index