Controlling Inhaled Anesthetic Depth Without Waste: Master the Use of Low Fresh Gas Flow
Tuesday, 1-4 p.m.
Upper 30A-C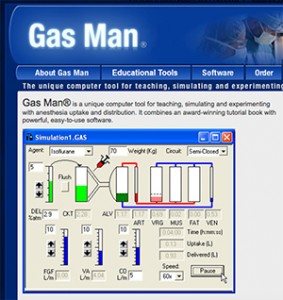 Physician anesthesiologists don't always control the patient's depth of anesthesia when using inhaled drugs as effectively as they would like to. Practitioners may be familiar with drug kinetics, but end-tidal concentrations can vary based on encumbrance of low fresh gas flow and failing to observe graphic trends of concentration.
"Many anesthesiologists use high fresh gas flow with inhaled anesthetics for this reason," said James H. Philip, M.D., anesthesiologist and Director of Clinical Bioengineering at Brigham and Women's Hospital, Medical Liaison for Anesthesia at Partners HealthCare System and Professor of Anesthesia at Harvard Medical School. "This results in excessive waste and unnecessary environmental contamination."
Dr. Philip will moderate a hands-on Fundamentals of Anesthesiology session, "Controlling Inhaled Anesthetic Depth Without Waste: Master the Use of Low Fresh Gas Flow" from 1 to 4 p.m. today in Upper 30A-C. Attendees will learn how to use the Gas Man kinetics program and workbook to simulate low flow anesthetic administrations on their own computers. They will also learn to capture similar clinical information by capturing images of graphic trends on their O.R. monitors.
Dr. Philip is the creator of Gas Man®, a computer tool used for teaching, simulating and experimenting with anesthesia uptake and distribution. The two course instructors, Jeffrey M. Feldman, M.D., The Children's Hospital of Philadelphia, and Tom Krejcie, M.D., Northwestern University, are both members of ASA's Committee on Equipment and Facilities and experienced Gas Man users and teachers of kinetics and low-flow anesthesia.
Screen-based learning on inhalation kinetics enables safe and effective use of low fresh gas flow, especially when used in conjunction with careful gas monitoring, Dr. Philip said. Attendees will get free Gas Man software and learn to use it to analyze display graphs in different patient simulations.
Screen-based simulations allow attendees to experience and practice some of the more common situations encountered when administering inhaled anesthetics. Scenarios include high flow, constant delivered concentration, high flow and vaporizer adjustments, increasing and decreasing anesthesia depth, and the dangers of high fresh gas flow in response to a sudden leak without adjusting the vaporizer setting. Attendees will be able to create, save and replay simulations on their own to improve their comfort using low flow and closed circuit anesthesia.
"This program allows you to learn how to practice anesthesia using inhaled agents safely, effectively and less wastefully by learning from a validated screen-based simulator, Gas Man," Dr. Philip said. "The program is free for learners, but you need to bring your own computer to the session, either Mac OSX or Windows. You can get the program after you pre-register for the course or register on Tuesday."
The program is limited to 24 participants, Dr. Philip said. He urged attendees to register in advance to ensure they have a seat for the session.

Return to Archive Index