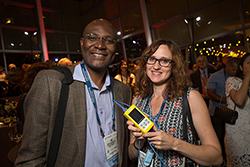 There was a moment during Sunday's first-ever Charitable Networking Event when Alexander A. Hannenberg, M.D., ASA Charitable Foundation Board Member, knew without question that the event's attendees were getting a take-away message they wouldn't soon forget:
"One of our new Global Scholars, Dr. Christopher Chanda from Zambia, was talking about challenges young leaders in the specialty have," said Dr. Hannenberg, who served as ASA President in 2010. "He described coming from a country of 15 million people — and he's only one of 10 practicing anesthesiologists there. The eyes of the people in the audience went like this, and their jaws were just dropping."
More than 300 registered attendees showed up to take advantage of great food, great views and even greater camaraderie Sunday evening at the Central Library at Joan Λ Irwin Jacobs Common.
The event introduced three young leaders from the new Global Scholars Program: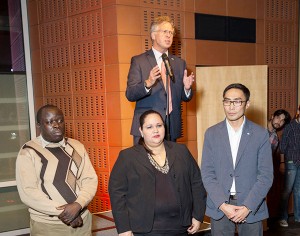 Dr. Christopher Chanda
Anesthesiologist
University Teaching Hospital
Lusaka, Zambia
Dr. Claudia Alvarez
Chief, Anesthesiology Department
Hospital Center of the El Progreso area
Yoro, Honduras
Dr. Natsagdorj Batgombo
Anesthesiologist-Intensivist
Intermed Hospital
Ulaanbaatar, Mongolia
Perhaps more important to Dr. Hannenberg, however, was the precedent the event set for taking ASA's networking possibilities to another level and for reaching ever-more individuals about the crucial importance of global humanitarian outreach.
"There was a push this past year to create a social networking kick-back event, and it felt like that," said Dr. Hannenberg. "I'm over the moon that we're now at a place where we have a charitable, philanthropic event essentially for global health at our meeting."
What about the future of such activities?
"I think the success we experienced this year is huge. And I think the 300 people who were there this time will be champions for this event in the future," he said.
Return to Archive Index