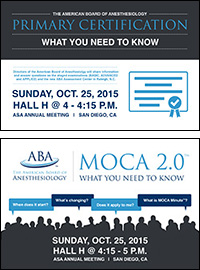 Don't know what the ABA MOCA Minute™ is? If you can spare an hour on Sunday afternoon, you'll learn that and so much more at two American Board of Anesthesiology (ABA) open forums in Hall H.
ABA Directors will lead two forums in succession beginning at 4 p.m.:
ABA Primary Certification Forum: What You Need to Know (4 to 4:15 p.m.)
ABA MOCA 2.0™ Forum: What You Need to Know (4:15 to 5 p.m.)
Led by ABA Board of Directors Vice President Brenda Fahy, M.D., the first session offers a question-and-answer format on the ABA's BASIC, ADVANCED and APPLIED staged examinations and the new ABA Assessment Center in Raleigh, North Carolina.
ABA Directors Deborah J. Culley, M.D., and Thomas M. McLoughlin, Jr., M.D., will lead an attendee-driven forum on the 2016 launch of ABA MOCA 2.0, the ABA MOCA Minute pilot, the 2017 launch of ABA MOCA 2.0 for Subspecialties and future ABA MOCA 2.0 platform features.
Return to Archive Index