A few of the specialty's best and brightest were honored with research awards Monday during the annual Celebration of Research event. Highlights included recognition of the following individuals, who received their awards from Evan D. Kharasch, M.D., Ph.D., Anesthesiology Editor in Chief:
FAER Mentoring Excellence in Research: Margaret Wood, M.B., Ch.B., who is the E.M. Papper Professor at Columbia University. Dr. Wood created the Apgar Scholars Program at Columbia, which has produced numerous young investigators who have gone on to receive FAER, IARS and NIH funding.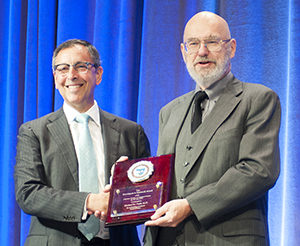 ASA Award for Excellence in Research: Michael Todd, M.D., Vice Chair of Research, Department of Anesthesiology, University of Minnesota. In his four-decade career, Dr. Todd has left an indelible mark on neuroscience research that has in turn impacted clinical practice. He is a past editor in chief of the journal Anesthesiology and led the International Hypothermia for Aneurysm Surgery Trial.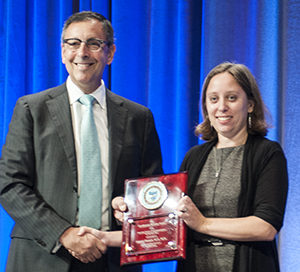 ASA Presidential Scholar Award: Hanna Wunsch, M.D., M.Sc., staff physician, Department of Critical Care Medicine, Sunnybrook Health Sciences Centre; Associate Professor of Anesthesia, University of Toronto; and Visiting Assistant Professor, Department of Anesthesiology, Columbia University. Dr. Wunsch has published cutting-edge work in health services research in JAMA, BMJ and Anesthesiology. She became a member of the Journal Associate Editorial Board last year.
Resident Research Contest: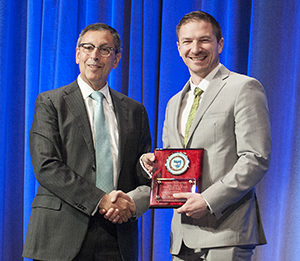 First-place: Stefan Schaller, M.D., University of Munich, for "GTS-21, an alpha7 acetylcholine receptor agonist (alpha7AChR) attenuates body mass, muscle mass and muscle function loss in rats having systemic inflammation with and without disuse atrophy."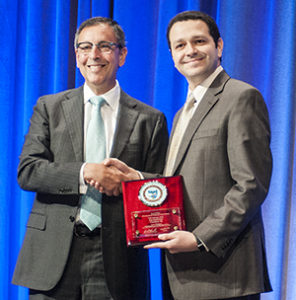 Second-place: Vafi Salmasi, M.D., Cleveland Clinic, for "The relationship between intraoperative hypotension, defined by either reduction from baseline or absolute thresholds, and acute kidney and myocardial injury after non-cardiac surgery: A retrospective cohort analysis."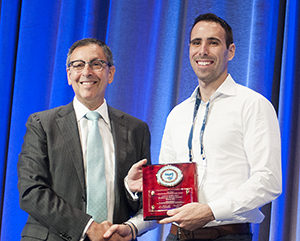 Third-place: Louis Saddic, M.D., Brigham & Women's Hospital., for "The long noncoding RNA landscape of ischemia in the human left ventricle is coordinated with coding gene expression."
Return to Archive Index