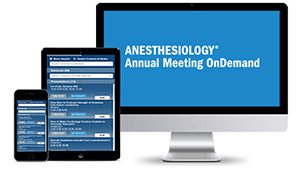 Almost 19 calendar days of educational programming.
When it debuts at the conclusion of the meeting this year, that's what ANESTHESIOLOGY OnDemand is going to offer you. Never before has an ASA product given such unprecedented access to annual meeting programming so you can re-experience sessions you attended and catch up on the ones you missed. It's the most comprehensive CME-accredited program available anywhere for anesthesia professionals. ANESTHESIOLOGY OnDemand offers users a maximum of 142.5 hours of CME credit.
Best of all, you can save $1,000 on the cost of this product by ordering during ANESTHESIOLOGY 2016. But you need to place your order by Wednesday!
OnDemand works with any computer or mobile device, and lets you pick up where you left off as you work through the programming. The learning format is intuitive and easy to navigate — the live session experience is re-created with slides and synchronized audio.
After finishing a session, all you need to do is click a CME test button to submit your credits.
OnDemand also offers PDFs of presentations and MP3 audio files so you can listen on the go. A USB device is included as well, so you don't even need an Internet connection to access content.
The program covers the following topics:
Ambulatory Anesthesia
Cardiac Anesthesia
Critical Care Medicine
Fundamentals of Anesthesiology
Geriatric Anesthesia
Neuroanesthesia
Obstetric Anesthesia
Pain Medicine
Pediatric Anesthesia
Perioperative Medicine
Professional Issues
Regional Anesthesia and Acute Pain
It also includes all Problem-Based Learning Discussion (PBLDs) cases and Refresher Course Lecture summaries.
Be sure to stop by the ANESTHESIOLOGY OnDemand booth at McCormick Place West, Level 3, in the Central Concourse to learn more about this great new program.
Return to Archive Index