Sponsored by the Foundation for Anesthesia Education and Research and the journal Anesthesiology, the 2017 Celebration of Research honored individuals who have made notable contributions to the science that drives our specialty. On Monday morning, Evan D. Kharasch, M.D., Ph.D., Anesthesiology Editor in Chief, presented the following awards to three exceptional anesthesiologist scientists: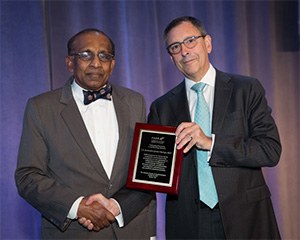 Mentoring Excellence in Research Award
J.A. Jeevendra Martyn, M.D., FRCA, FCCM, Director of the Clinical and Biochemical Pharmacology Laboratory in the Department of Anesthesia, Critical Care and Pain Medicine at Massachusetts General Hospital and the Shriners Hospitals for Children Boston. He is also Anesthetist-in-Chief at Shriners and Professor of Anesthesia at Harvard Medical School. Dr. Martyn has been a respected mentor for almost 40 years. In 1977, he became PI of one of four projects in the P-50 Burn Trauma Center Grant. The P-50 is now in its 40th year of funding. Dr. Martyn continues to be a PI on one of the four projects, providing training opportunities for postdoctoral research fellows. The majority of his mentees have pursued academic careers and many have become major figures in anesthesiology, one of its sub-disciplines or in neuromuscular research.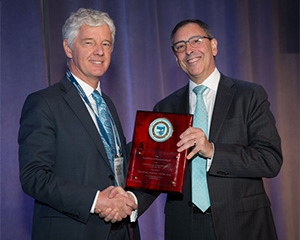 ASA Award for Excellence in Research
Paul Myles, M.B.B.S., M.P.H., D.Sc., Chair of the Department of Anaesthesia and Perioperative Medicine at the Alfred Hospital and Monash University in Melbourne, Australia. Since his first publication in 1991, Dr. Myles has published more than 275 manuscripts, many of them in top medical journals, such as NEJM, JAMA and Lancet. His published work has been cited close to 15,000 times. He has obtained more than 25 research grants from the Australian National Health and Medical Research Council (National Institutes of Health equivalent), totaling more than $35 million. Dr. Myles has mentored numerous research mentees and has established the world's first university-based master's degree in perioperative medicine. To date, the program has enrolled more than 1,000 physicians in the short course, and 250 physicians have enrolled in the master's program.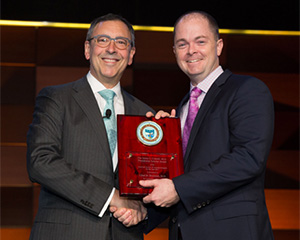 James E. Cottrell, M.D. Presidential Scholar Award
Chad Brummett, M.D., Associate Professor of Anesthesiology, Director of Anesthesia Clinical Research and Director of the Division of Pain Research, University of Michigan, Ann Arbor. This award recognizes colleagues who dedicate their formative careers to research. Anesthesiologists who are within 10 years of their first appointment to a department of anesthesiology, who are board-certified in their country of practice, ASA members and clinically active in anesthesia, intensive care or pain medicine are eligible for the award. Dr. Brummett has made tremendous progress toward establishing the basis for a world-class career as an academic anesthesiologist/pain physician in a short period of time. He has published more than 60 peer-reviewed articles, eight book chapters, and one book, while being principal investigator, co-principal investigator and co-investigator on 33 grant submissions.
Return to Archive Index