Practices that have not yet determined how to meet 2017 MACRA reporting requirements are not alone. More important, they are not too late to learn about last-minute reporting options through the Anesthesia Quality Institute's (AQI's) National Anesthesia Clinical Outcomes Registry (NACOR).
At 9:15 a.m. on Monday, representatives from the AQI and ePreop will lead a pick-your-pace session in the Industry Theater area of the Connection Center, located just below and between the escalators leading into the exhibit area.
ASA's Industry Theater presentations offer up-to-the-minute information on products and services that are currently impacting the specialty and your practice. Perhaps no other regulatory issue will affect physician anesthesiologist practices more in the foreseeable future than MACRA.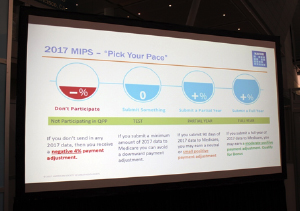 According to Alexander A. Hannenberg, M.D., Chair of the ASA's Payment Reform Steering Committee and 2010 President, the Society has been working diligently on preparing ASA members for MACRA requirements since 2015.
"The regulatory process implementing MACRA is complex and ongoing. ASA's senior staff and physician leaders have dedicated time for this work for the last three years and have engaged experienced consultants in support of it," Dr. Hannenberg said. "The pick-your-pace Industry Theater session on Monday is an unbeatable opportunity to learn from experts about last-minute reporting options for 2017 and how to prepare for 2018."
Return to Archive Index