Is There a Doctor on the Plane? Management of Medical Emergencies at 30,000 Feet (PN508)
10:15-11:15 a.m. Wednesday
BCEC Room 259AB
Any medical emergency is challenge, but if it occurs on a plane, the challenges are multiplied. What medical equipment is available? Is an experienced health care professional available to assist you? What is your professional liability? What is your ethical responsibility?
Philip Rubin, M.D., Assistant Professor of Anesthesiology at Yale School of Medicine, has found himself in these situations, fueling his desire to answer such questions and find solutions when the answers are inadequate. Dr. Rubin and two other physicians will discuss what to expect in these circumstances during "Is There a Doctor on the Plane? Management of Medical Emergencies at 30,000 Feet."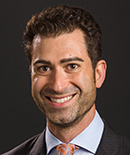 During his scariest inflight emergency, in 2014, Dr. Rubin assisted a fellow passenger who suffered a cardiac arrest on a domestic flight. The plane was diverted to the nearest airport as Dr. Rubin struggled with limited resources.
The Federal Aviation Administration (FAA) requires all passenger flights with at least one flight attendant to have only an automated external defibrillator, a BVM resuscitator and oral airways. The mandated equipment list has not been updated since 2004 and it lags behind what is required on commercial planes in Europe.
"The resources available were not enough to handle the severity of this experience," Dr. Rubin said of his 2014 emergency. "I am passionate about modernizing the way we treat passengers during inflight medical emergencies. I continue to seek the necessary channels to re-evaluate the resources available, especially when the cost of some additional items is inexpensive.
"There are other potential emergencies not involving a cardiac arrest where an advanced airway could be beneficial — severe allergic reactions or seizures. This needs to be reconsidered."
Another question among health care professionals is the possibility of being sued after trying to help in an emergency, which could lead to an ethical quandary. The Good Samaritan provision of the Aviation Medical Assistance Act protects medical professionals acting in an emergency, which Dr. Rubin will discuss.
Keith Ruskin, M.D., a Professor of Anesthesia and Critical Care Medicine at the University of Chicago, will examine inflight physiologic changes. He chairs the Aerospace Human Performance Committee of the Aerospace Medical Association and is an aviation medical examiner.
Paulo M. Alves, M.D., M.Sc. FAsMA will discuss inflight emergencies from a ground-based medical support perspective. He is the Global Medical Director for MedAire, Inc., a global provider of remote medical advice for airlines and business jets, as well as emergency medical equipment. Dr. Alves is the past chair of the Air Transport Medicine Committee of the Aerospace Medical Association (AsMA) and a past president of the Airlines Medical Directors Association.
Dr. Rubin is working to become a certified aviation medical examiner and said he wants to work with the FAA to increase the medical equipment on board commercial planes. He also wants the reporting of medical emergency data by airlines to be standardized so those events could be regularly reviewed.
"There are so many factors involved and there is no right answer of how to manage inflight emergencies," Dr. Rubin said. "The bottom line is that the process is antiquated. Updates are essential to optimize the care that we provide to ill passengers."
Return to Archive Index