ASA members continued their dedication to advocacy and patient safety during ANESTHESIOLOGY 2019. In addition to continued support for advancing the specialty, attendees have been using new mobile technology to advocate for a top policy priority–ending surprise medical bills.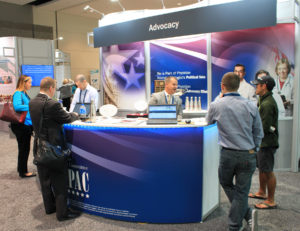 While waiting for a session to start or during your visit to the Advocacy Booth, 1259 in the Resource Center of the Exhibit Hall, you may have noticed a phone number listed on the monitor screen. This year, ASA has launched a new grassroots mobilization tool via texting. Simply text SurpriseBillsEngage to 855-465-8659 and you will be automatically directed to the ASA Grassroots Network and an opportunity to text your lawmaker about ASA-endorsed legislation to protect patients from surprise medical bills while providing a level playing field between physician and insurers.
As part of this campaign, ASA is asking its membership to help continue the swell of support for H.R. 3502, the Protecting People from Surprise Medical Bills Act. This bipartisan legislation, which is endorsed by ASA, and thanks to ASA members' work already enjoys 100 cosponsors–more support than any other pending surprise medical billing legislation in the House of Representatives. But more effort is necessary to ensure this legislation advances.
Why this bill? In contrast to other legislation in Congress, the Protecting People from Surprise Medical Bills Act gets to the root cause of surprise bills–inadequate insurance networks. This bill is also based on the proven, successful model that is currently in place in New York state, which has reduced complaints related to surprise bills, increased the number of in-network physicians and saved health care dollars. H.R. 3502 includes robust patient protections that ensure individuals only pay in-network amounts for their care, whether the care provided was in- or out-of-network. The bill also makes it easier for patients to understand the limits of their insurance coverage, safeguards access to emergency care and preserves access to planned care by the physician of their choice. Finally, this bill encourages transparency from health plans and establishes a fair and efficient payment dispute resolution process between physicians and insurers, with no patient involvement.
Already sent an email? There's more you can do! Visit the advocacy booth to find out more about tweeting, meeting or thanking your lawmakers for efforts to address surprise medical bills. ASA leaders and staff have resources to help you advocate on this critical topic.
Visit Booth 1259 in the Resource Center to learn more about this issue, contribute to advocacy for the specialty and be more involved in the political process.
Return to Archive Index