Learn how to optimize your practice, advance your skills and support your specialty at the ASA Resource Center, located at Booth 1259 in the exhibit hall (Level 2 West Hall A3-B2).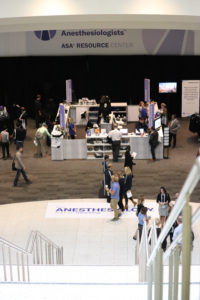 The ASA Resource Center is open to all attendees during regular exhibit hall hours. Attendees can speak with ASA staff about membership, educational offerings, leadership development, quality improvement, practice optimization, brain health, team-based care, philanthropy, the Anesthesiology® journal, the ASA's new public awareness campaign and connecting on social media.
Additionally, the ASA Resource Center is home to the newest ASA gear and is the place to go for your complimentary professional headshot, valued at nearly $300.
While you're at the Resource Center, don't miss your chance to win a trip! Drop your giveaway tickets, located in your badge, into the giveaway drum on Saturday, Sunday and Monday to be entered to win an Amazon Echo Plus or an exciting travel destination package to Washington, D.C., San Diego, New Orleans or San Francisco. Winners are selected at random, and no purchase is necessary to win. For complete giveaway details, including when winners will be announced, visit the ASA website.
ASA members: Stop by to better understand your benefits and exclusive savings! Not a member? Join onsite to receive 14 months for the price of 12, plus a free gift. Here are a few exclusive opportunities offered on site:
PurchaseANESTHESIOLOGY Annual Meeting OnDemand for a reduced price.
Purchase Anesthesia SimSTAT to receive 10 percent off the individual modules or save an additional 10% on the five-module bundle. Plus, participate in a product demo:
Saturday, October 19 | 10:30 a.m.-1 p.m., 2:30-4 p.m.
Sunday, October 20 | 9-11 a.m., Noon- 4 p.m.
Monday, October 21 | 9:30-11 a.m.
Pre-order ACE and/or SEE 2020 to lock in 2019 pricing.
Meet with a physician leader assessment and development expert:
Saturday | 2-5 p.m.
Sunday |10 a.m.-12 p.m.
Demo the Physician Communications Coach program:
Saturday | 10 a.m.-1 p.m.
Offer your feedback at the Anesthesia Quality Institute kiosk. Join clinical experts from the ASA's Committee on Performance and Outcomes Measurement as well as ASA staff to discuss all things quality, performance measurement, data and more. Quality office hours are:
Saturday | 1-2 p.m.
Sunday | Noon-1 p.m.
Return to Archive Index