We hope you agree that ANESTHESIOLOGY 2020 offered more ways to converse with more colleagues than any meeting before it. We're pleased to inform you that you can extend those conversations, and much more, with our new ASA Community – an easy-to-use networking tool where you can tap into the collective knowledge of our 50,000-plus membership.
Since its launch three weeks ago, the ASA Community has amassed over 10,000 logins, more than 50,000 pages views, and over 500 member posts.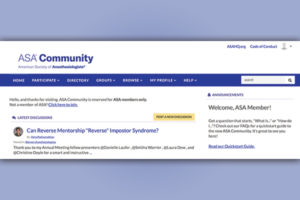 There is no lack of options when it comes to networking and communications platforms, but there are some notable things that make our secure, private community unique:
Scale and Reach. ASA Community is a very big tent. Via the Open Forum, every ASA member can tap into the collective knowledge and experience of 50,000 colleagues.
Ease of Use. Daily Digests deliver the latest community activity directly to members' inboxes each morning, and members can reply to posts or start new threads – no log in required.
One-Stop Shop. Members are invited to post about any aspect of their practice – no need to hop from platform to platform to find the right "home" for certain questions.
Depth of Conversation. Unlike interest groups on social media platforms, ASA Community is designed for meaty conversation rather than quick-hit interaction. Reference materials can be posted as attachments and are automatically archived.
Quality and Trust. This community is reserved for ASA members only, and members' full name and contact information is readily accessible via their profile pages. Each post or reply is a message that a member has literally "signed their name to," which encourages higher-quality contributions and best behavior.
Visibility for Leadership. All of your contributions are accessible from your profile page, so you can easily build a track record as a subject matter expert or influencer – an opportunity to "get noticed" by ASA leadership as a potential speaker, panelist, or committee member.
Here's what users are saying so far about the ASA Community:
"ASA Community is a great idea. I miss the camaraderie of colleagues amongst other things, and that need to connect will be fulfilled by this platform." – Susmita Chiplunker, MD
"I really enjoy the forums and information available within the ASA Community. I'd love to see the community continue to grow." – Dr. Connor Fuhrmann
"A long time coming. One of the most useful tools the ASA has ever developed in my 45 years of membership." – Dell Burkey, MD
"What a very clever idea to provide such a possibility to communicate. I am a retired French anesthesiologist having spent some time in the U.S. I am very happy to read about this group from time to time." – Dr. Ginette Durand-Gorry
See for yourself – check out the ASA Community today and join the conversation!
Return to Index