Like many other aspects of ANESTHESIOLOGY 2020, the exhibitor activities planned for this year will be unlike any other—not just because they are all virtual, but because they offer more opportunity for engagement than any meeting before it.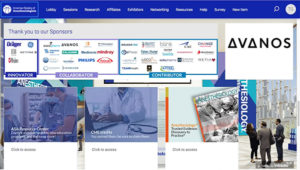 "There isn't a single segment of the health care community that hasn't been affected by the COVID pandemic, and that certainly includes industry," said ASA President Mary Dale Peterson, MD, MHA, FACHE, FASA. "It's a testament to the great relationships ASA has developed over decades with our corporate partners that they are with us this year, with such a wide variety of sessions and services that benefit ASA members."
Our corporate partners offer programming throughout each of the four days of the meeting. Through the online platform's Virtual Exhibit Hall, you can log in at specific times to meet with individuals or groups from industry and participate in various sessions that include:
Sunrise Sessions: Like satellite symposia that you would find in a live meeting, these early-morning, non-CME educational sessions will be led by a subject matter expert, with opportunities for attendee discussion throughout. Topics include a once-daily IV non-opioid for postop pain and the increasingly popular erector spinae plane block.
Exhibitor Showcase Sessions: At mid-day, participating companies offer product demonstrations accompanied by virtual group chats, which include a career fair and an exploration of AI and ultrasound.
Evening Networking: At the end of each day, our corporate partners welcome attendees to networking sessions to help you unwind from your day and get together with friends and colleagues.
TableTalk Networking: On the evenings of Friday, Saturday, and Sunday you can join live "TableTalk" discussions on a number of topics of your choice. Join the room and stay at one table for an intimate, in-depth discussion or hop from table to table and provide input to several discussions.
With such a wide variety of ways to interact, you might think navigating them all could be a challenge. Quite the opposite. Taking a cue from Netflix and Hulu, the interface couldn't be simpler or more enjoyable. Products, services, and sessions are smartly organized in pull-down menus in your navigation bar that let you easily choose what interests you.
"Nothing can replace the face-to-face interaction of a live meeting, and I think most of us are looking forward to the day when it's safe enough to participate in them again at such a large scale," said Dr. Peterson. "But in the meantime, I think you'll agree that our corporate partners have done an amazing job in adapting to current realities, while still continuing to offer ASA members access to the latest cutting-edge technology, products, and learning in our field."
Return to Index