As physician anesthesiologists, you make a difference in the moments that matter most to your patients. This is more evident than ever as the country battles an unprecedented pandemic—and you have been leaders, innovators, and lifesavers. And just as you were made for this moment, you are made for the ones that happen every day as you safeguard patients and advocate for quality care.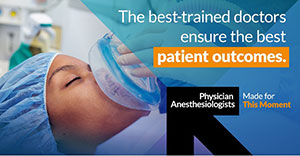 Yet, you're not always getting the credit you deserve. To help address this disconnect, ASA launched a new awareness campaign to promote the education, training and value of the specialty and how physician anesthesiologists are Made for this Moment.
A campaign grounded in data
As you may have seen, the campaign launched in August and is built on quantitative and qualitative research. Just as the specialty relies on science and data, ASA obtained insights from physician anesthesiologists and key stakeholders, including policymakers, health care executives, patients and other priority audiences to identify their perceptions, knowledge, and views and also to test and develop campaign messages.
Key findings suggest that quality of care is more important to all audiences than cost or access. It confirmed the lack of understanding that anesthesiologists are physicians and play a critical role in patient care. The research also showed that patients prefer physicians — and are concerned about "nurse substitution" leading to lower-quality care.
How ASA is protecting the specialty
The research underscored the need for ASA to develop a campaign that showcases the impact you have each day on patient safety, patient outcomes, and health care quality and reinforces your value to patients and health care systems. This is your moment, and ASA knows there has never been a more important time to advocate for your specialty.
The campaign is targeting health care executives and policymakers through digital marketing and direct outreach. As the campaign continues, activities will be executed in a phased approach.
The first phase focused on positively positioning the specialty by building on the profession's response to COVID-19 and the overall value and importance of physician anesthesiologists. The second phase will focus on maintaining physician-led anesthesia care by targeting areas most threatened by its elimination and nurse substitution. These efforts will be supplemented with rapid response efforts that quickly address any state or national legislation to remove physician-led anesthesia care.
The goal is to educate these key stakeholders so they will support the specialty when called on to make important policy and administrative decisions.
The campaign is already reaching them. In the first month, ASA served ads on Politico and The Hill, reached over 34,000 health care executives and 2,500 policymakers on LinkedIn alone, and garnered over 2.1 million ad views across the entire campaign.
Learn more – And take action!
ASA knows you deserve this campaign, but also knows there is no better advocate than you, our members.
Watch for additional information about the campaign during ANESTHESIOLOGY® 2020 and visit the Made for this Moment member landing page to learn more about what's planned and how you can get involved.
Return to Index