The current pandemic and resulting health care climate have wrought enormous amounts of stress on physicians—and sometimes, this spirals out of control.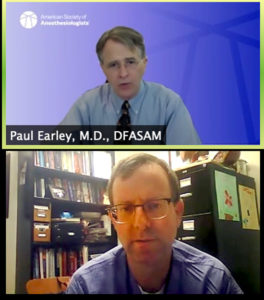 "Substance use is one of many conditions that can be part of a downhill course among the distress process of health care workers," said Paul Earley, MD, President of the American Society of Addiction Medicine, Immediate Past President of the Federation of State Professional Health Programs, and a staff member at the Georgia Professionals Health Program. Dr. Earley presented at yesterday morning's session "Physicians Health Programs: The Reasons, the Role and Recovery."
This is not to say that everyone who develops stress develops a substance use disorder, or that everyone who develops a substance use disorder is under an extreme amount of stress. However, in a time as uncertain as the one in which we currently operate, it's critical to consider how to make sure physicians suffering from chronic disease get the help they need, he said.
"We use our intellectualism and our sense of self confidence almost as a weapon against being able to open up and talk about our problems," said Dr. Earley. "Physicians have difficulty admitting when they're not at the peak of their game." Pair this with the obvious access to drugs and the fear of career impact, and anesthesiologists may require a different method of disease management than most.
Enter Professional Health Programs (PHPs). "Professional Health Programs, such as physician health programs, are really true chronic disease management systems," said Dr. Earley, noting that depression and addiction are chronic illnesses that deserve chronic treatment.
PHPs are state-sanctioned agencies that bridge the health of the individual physician and the safety of the public. When a physician is ill, a PHP can come in and help to communicate with all professional health parties involved: the physician, the licensing board, the hospital or office setting, and the treatment provider.
In this relationship, a physician participant receives an intensive tapering monitoring process, contingency management, and access to a support network. The PHP will also work with the professional community to consult about professional wellness and fitness for duty, advocating for participants with their peers and with licensing boards.
And most importantly, a PHP works with a physician to comprehensively manage his or her illness over time. "PHPs pay attention to work/life balance, co-occurring conditions, trauma, professional personality issues, healthy boundaries with patients, etc.," said Dr. Earley, noting a possibility of relapse and recommending that the timeline for health care chronic disease management be five years. Professionals who participate in the PHP model, he said, have been shown to have complete abstinence rates of 70-86% over prolonged periods of time, measuring between three and five years.
"You won't punish a diabetic because he had high blood sugar," he said. "The same is true with addiction. Unfortunately, it's a process."
Return to Index