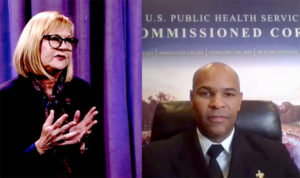 SARS-CoV-2 has shaken us to our core. Now is the time to put politics aside, reflect on the gravity of the moment, and unite against our common enemy, U.S. Surgeon General Jerome Adams, MD, MPH, FASA, told anesthesiologists during Friday's Welcome Session, the official kick off of ANESTHESIOLOGY 2020.
Dr. Adams, the first anesthesiologist Surgeon General, addressed attendees virtually shortly after news broke that President Trump and first lady Melania had tested positive for COVID-19.
"COVID-19 has caused strife and suffering unseen on our planet in more than a century, and anesthesiologists have been on the frontlines day in and day out," Dr. Adams said. "The truth is, I have never been more proud to count myself among the ranks of anesthesiologists, but I also love, appreciate, and support all the anesthesiology support out there, including AAs and CRNAs … You have put your own lives at risk for the sake of your patients and your communities."
He compared crowded ICUs during the COVID crisis to a warzone, acknowledging not only how hard anesthesiologists have worked, but the extreme conditions within which they were working. "I know that you're tired—and understandably so—but I hope that you feel pride in your work and know that you are the true heroes right now."
Every war brings innovation, Dr. Adams said, and the war against COVID is no different. He applauded anesthesiologists for helping drive innovation while adapting standards of care that have resulted in better, faster patient recovery.
We know who is at risk of COVID and why, as well as how to protect them, Dr. Adams said.
The result: Mortality rates from COVID have dropped from 30% to 5%.
"We know more about how to treat patients, what drugs to use, new approaches to ventilation … and that's due to your research," he said.
While major progress has been made in the scope of combating COVID, Dr. Adams said that more can be done, that anesthesiologists can bring more value to the table.
"Studies show that patients have improved outcomes when they have doctors that look like them and talk like them," he said, adding that Black people represent 13% of the population but only 3% of the anesthesiology workforce. "My fellow members, we've got to do better."
He also is calling for more equity in access to health care. He said that four COVID vaccines are in phase 3 trials, but that having a safe and effective vaccine is only the first step. "All Americans must have an equal opportunity to get the vaccine … They are most effective when all people who can get them do get them."
While Dr. Adams emphasized the importance of vaccines, he said that it is imperative for everyone to get a flu shot this fall. Last year, 35 million people were diagnosed with the flu.
"Why does that matter so much? Because the symptoms are the same as for COVID. Think about the impact on our COVID response and the places that will be shut down because it may look like they have COVID. We can't afford that," Dr. Adams said.
In the meantime, the simplest measure that everyone can do to reduce the spread of COVID is to adhere to the three W's, he said: Wash your hands, watch your distance, and wear your mask, he said.
COVID lessons learned in Germany
Also during Friday's Welcome Session, Germany's Chancellery Minister, Helge Braun, Professor, MdB, described how his country has dealt with the unprecedented challenges of the COVID pandemic.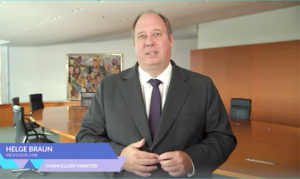 He said COVID is not at all comparable with any other crisis, such as the financial crisis, because it affects each of us so personally. Because of that, Germany has worked to remain transparent with its citizens, offering them the comfort and support of being completely communicative.
"We must acknowledge the seriousness of the situation and the importance of staying calm" Dr. Braun said. "In recent months, our government has worked hard to ensure safety and has shown the importance of transparency in crisis management."
Part of this transparency includes reporting on how many intensive care beds are available at all times, which every citizen can see, as well as every doctor. Germany's hospitals have worked to increase that number from 28,000 when COVID began to 40,000 now. They also have introduced a nationwide database so physicians can learn from each other.
"We have to live with the virus for some time to come … we must keep up our efforts and continue to be alert. Our knowledge about the virus grows day by day," Dr. Braun said. "We are taking a close look at what else we need to do to be even better prepared, as we know numbers could go up further as people do more indoor activities (in the fall and winter)."
Return to Index