In a health care environment where practitioners are asked to be efficient and proficient in many clinical scenarios, it's almost impossible for them to keep up on the latest breaking science. Saturday's "Our 10 Favorite Papers of the Year: How Will They Affect Your Practice?" put some of the best papers front-and-center for anesthesiologists.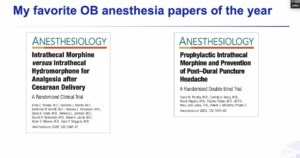 "Thousands of medical publications come out each day. As a consequence, it is beyond an individual's capabilities to even stay on top of the developments in the main areas of our practice," said Marc Steurer, MD, MHA, DESA, Professor and Associate Chair for Finance, Department of Anesthesia and Perioperative Care at the University of California, San Francisco, who moderated the event. "This snap talk aims to provide clinicians with some of the relevant developments and findings that have come out in the last year that can have an impact on their own care delivery."
The session explored the best papers in five domains, and the panelists presented their two favorite papers corresponding to their domain.
Anesthesia for the pregnant patient
Presenter: John C. Markley, MD, PhD, of the University of California, San Francisco.
Intrathecal Morphine versus Intrathecal Hydromorphone for Analgesia after Cesarean Delivery. Conclusion: Morphine 150 mcg IT and hydromorphone 75 mcg IT produce similar post-cesarean analgesia when combined with a multimodal regimen. Side effect profiles are similar at the doses used.
Prophylactic Intrathecal Morphine and Prevention of Post-Dural Puncture Headache. Conclusion: A single dose of IT morphine 150 mcg soon after delivery does not reduce incidence of PDPH after inadvertent dural puncture.
Dr. Markley said he chose these papers because they both report prospective, randomized, double-blind studies; are "negative" studies (null hypothesis was not rejected); help shed light on prior studies; and despite some limitations, can immediately change OB anesthesia practice.
Anesthesia for the obese patient
Presenter: Tiffany S. Moon, MD, Associate Professor at UT Southwestern Medical Center in Dallas.
The Obese Patient: Facts, Fables, and Best Practices. Conclusion: Dr. Moon collaborated with colleagues to write this review article that explores using gastric point-of-care ultrasound, dosing thromboprophylaxis and antibiotics appropriately in obese patients, and intubation/extubation strategies for obese patients.
Effect of Intraoperative High Positive End-Expiratory Pressure (PEEP) With Recruitment Maneuvers versus Low PEEP on Postoperative Pulmonary Complications in Obese Patients. Conclusion: A higher PEEP strategy was not more effective than a low PEEP strategy for preventing postoperative pulmonary complications in the first five days after surgery.
"These are two important papers dealing with anesthesia in patients with obesity," Dr. Moon said.
Anesthesia for pain management
Presenter: Stephen V. Panaro, MD, of Hartford Hospital in Connecticut.
Preemptive and Preventive Pain Psychoeducation and its Potential Application as a Multimodal Perioperative Pain Control Option: A Systematic Review. Conclusion: This review paper suggests we may be able to do more to control acute and chronic pain as well as other metrics, such as patient satisfaction and length of stay while reducing opioid use, all with a simple intervention.
Impact of Perioperative Pain Management on Cancer Recurrence: An ASRA/ESRA Special Article. Conclusion: This review paper raises awareness about perioperative and intraoperative management of patients and their potential for seldom considered but meaningful impacts on disease-free survival.
"These are big topics, and my intent over a few minutes is simply to create interest and raise awareness," said Dr. Panaro. "Both papers concluded that more research is ongoing and desperately needed."
Anesthesia for the bleeding/anemic patient
Presenter: Brittney Williams, MD, of the University of Maryland School of Medicine in Baltimore.
Effect of Fibrinogen Concentrate vs Cryoprecipitate on Blood Component Transfusion After Cardiac Surgery: The FIBRES Randomized Clinical Trial.
Prothrombin Complex Concentrate in Cardiac Surgery: A Systematic Review and Meta-Analysis.
Overall conclusion: Universal recommendations cannot be made until more random clinical trials are done, but these two studies show the agents are effective and do not increase the risk of thromboembolic events.
Dr. Williams said she chose these papers because they address issues of effectiveness and safety in evolving transfusion practices in cardiac surgery related to factor concentrates.
Anesthesia for the critically ill patient
Presenter: Susan Yoo, MD, of the University of California, San Francisco.
Effect of Reduced Exposure to Vasopressors on 90-Day Mortality in Older Critically Ill Patients with Vasodilatory Hypotension. Conclusion: Reducing the exposure to vasopressors through permissive hypotension did not significantly reduce mortality at 90 days. However, the CI around the point estimate for the primary outcome should be considered when interpreting the clinical importance of this study.
Dexamethasone in Hospitalized Patients with COVID-19 – Preliminary Report. Conclusion: In patients hospitalized with COVID-19, using dexamethasone resulted in lower 28-day mortality when patients were receiving mechanical ventilation or oxygen, but not for patients receiving no respiratory support.
Dr. Yoo said the strengths of the COVID study led her to select it for inclusion. It was a rapidly organized trial with meaningful outcomes, had broad inclusion, and offered an intention-to-treat analysis.
Return to Index